Voracious 2 ep16 - Don't You Want To Bite Me?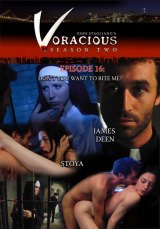 Description:
DON'T YOU WANT TO BITE ME?: Rogue priest
James Deen
leaves the chained, captive vampire
Stoya
to carry out his mission at the local convent. After a chilly reception from the Mother Superior, he interrogates nun
Chastity Lynn
, who reveals that she slept with a vampire. Disgusted, Deen returns to Stoya for some more intense sexual exorcism. He tells himself that he's only trying to break down her defenses -- but another orgasmic session of brutal pussy pounding and intimate erotic torture with the pale, submissive slave has left him questioning his resolve.
List Of Voracious - Season 2 Episodes