Voracious 2 ep15 - It's Really A Shame You're A Vampire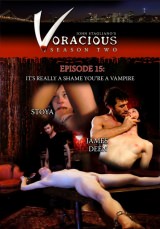 Description:
IT'S REALLY A SHAME YOU'RE A VAMPIRE: Perverted vampire hunter
James Deen
returns to his captive -- the pale, naked
Stoya
, who's chained and helpless. He neutralizes her power by slathering her lips with a holy concoction of cum, then brutally flogs her sensitive nipples, repositioning her so that her pussy and asshole are completely exposed to a series of painful leather blows. Soon the rogue priest is sucking Stoya's pussy... and ruthlessly fucking her tender asshole as he chokes and slaps the bound vampiress to an intense climax.
List Of Voracious - Season 2 Episodes