Voracious 2 ep13 - Are You The Last One?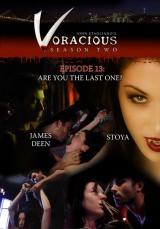 Description:
ARE YOU THE LAST ONE?: Vampire hunter
James Deen
has tracked his adversary to a Hollywood fortune-teller's lair, where bloodsucker
Stoya
is disguised as an old crone. He attacks the seductive creature, chains her up naked... and inflicts erotic tortures to get her to talk. After neutralizing her power by smearing an elixir of cum on her lips, he attaches clothespins to Stoya's pale flesh and brutally fucks her face with his hard cock until she's a moaning, submissive mess. He leaves her splayed and helpless.
List Of Voracious - Season 2 Episodes