Voracious 2 ep11 - I Thought You Were Dead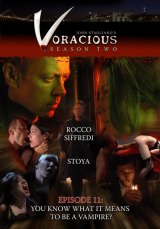 Description:
I THOUGHT YOU WERE DEAD: A secretly observed vampire attack and an innocent comment lure powerful vampire Vlad (
Rocco Siffredi
) to San Francisco. He finds the lithe, alabaster body, piercing eyes and long, sensuous muscles of Sonja (
Stoya
). She delights in his fetish explorations, and as they pit their superhuman bodies against each other, we see why these performers are superstars. Their sweaty sexual melee is rife with power fucking and flavored with rim jobs. The lady stuffs eight fingers in her shaved, pink gash. Stoya is surprised by the depth of Rocco's intimate passion -- expressed through play in a vampire's favorite place, the throat. Choking and graphics breath control, by means of cock, hand, foo, and tongue, are the obsessions of the day.
List Of Voracious - Season 2 Episodes