Voracious 2 ep8 - A Body Built For Sin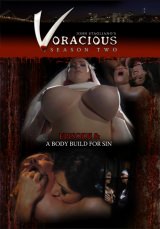 Description:
A BODY BUILT FOR SIN: The human body is vulnerable to sin; sacred images are ripe for defiling; fantasies will turn on us and still we succumb. A stone statue of Mary comes to life in the form of voluptuous
Mz. Berlin
, who dances seductively, condemns a religious zealot's lust and flogs his bare skin. Vampire
Lea Lexis
(in leather, fishnets, and heels) confronts Mother Superior
Rain DeGrey
. Rain hopes to purify the evil she senses in Lea's lust, but Lea uncovers the busty nun's own desires. Lea hangs, flips and smashes her body into the face and genitals of the merely human Mother Superior. Who surrenders to wet kissing, nasty nipple pinching and frenzied pussy passion? Beware whom you invite in.
List Of Voracious - Season 2 Episodes