Voracious 2 ep6 - You Will Cry Very Much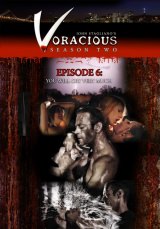 Description:
Legendary XXX filmmaker John Stagliano's 'Voracious' project presents eerie vampire lore and strikingly kinky sex in the multiple chapters of an ambitious, continuing epic. This episode, entitled 'You Will Cry Very Much,' stars lithe
Mira
Sunset, British sensation
Samantha Bentley
as a vampire hunter and superstar stud
Rocco Siffredi
as her nemesis, the vampire clan enforcer. Finding Samantha trussed up in chains, Rocco and Mira brutally manhandle the terrified girl: They bite her neck and nipples; harshly slap, cock-slap, manipulate and spit in her face; smash water balloons in her mouth; wrap her head in bubble wrap; roughly spank her ass. Both girls get all holes thoroughly reamed.
List Of Voracious - Season 2 Episodes