Voracious 2 ep5 - Enjoy Your Last Taste Of Cum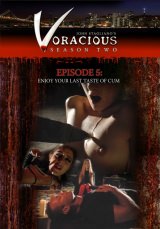 Description:
Legendary XXX filmmaker John Stagliano's 'Voracious' project presents eerie vampire lore and strikingly kinky sex in the multiple chapters of an ambitious, continuing epic. This episode, entitled 'Enjoy Your Last Taste Of Cum,' stars lithe European beauty
Cayenne Klein
as a vampire in need of human sperm. Trussed up in chains, she implores two cops (
Markus Dupree
,
Thomas Stone
) to 'Fuck me! Take me now!' The ensuing threesome (shot artistically amid light and shadows) includes sloppy blowjobs and rim jobs; soaking pussy ejaculations; sodomy and anal gaping; and torrid double-penetration. The sperm Cayenne needs cascades into her mouth and down her body.
List Of Voracious - Season 2 Episodes