Made In USA #02, Scene #04
Scene Info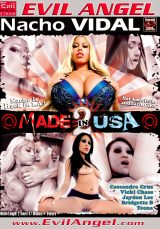 Made In USA #02, Scene #04
Updated : 2012-03-15

|

Length : 00:39:00

|

Size : 377 MB

|

Images : 0

|

Views : 9165
Submissive Asian-American teen Jayden Lee is bored and looking for action. So when a stuffed rabbit asks her for a blow job, the brunette stunner agrees. Itís not really a bunny rabbit, Silly ó itís director Nacho Vidal, and heís in a dominating mood! Soon young Jaydenís having her throat brutally fucked; Nacho bends her over and rams her tender pussy while he chokes and slaps her. The director leads Jayden to a dark bathroom, wraps her head in toilet paper and abuses her with other perverse humiliations. Eventually, he shoots his load in Jaydenís pretty face.
Nacho Vidal - Related Scenes
Jayden Lee - Related Scenes

WANT TO RECEIVE FREE CONTENT AND PROMO OFFERS FROM EVIL ANGEL ?